Artificial Intelligence driven Chatbots are increasingly being adapted by businesses to handle various aspects of communication and provide support to their customers.
A chatbot is a Computer Program or an Artificial Intelligence which can conduct a conversation with humans via auditory or textual methods. Such programs are often designed to convincingly simulate how a human would behave with another as a conversational partner.
Now, we know chatbots can prove to be the most incredible tools that can foster customer loyalty across marketing, sales, and service, if created masterfully.
There are special business bots made to satisfy customers. As per a report in sproutsocial.com:
2 billion messages are sent between people and businesses in a month
53% of people would be more likely to shop with businesses that they can text
56% of people would prefer messaging to calling Customer Service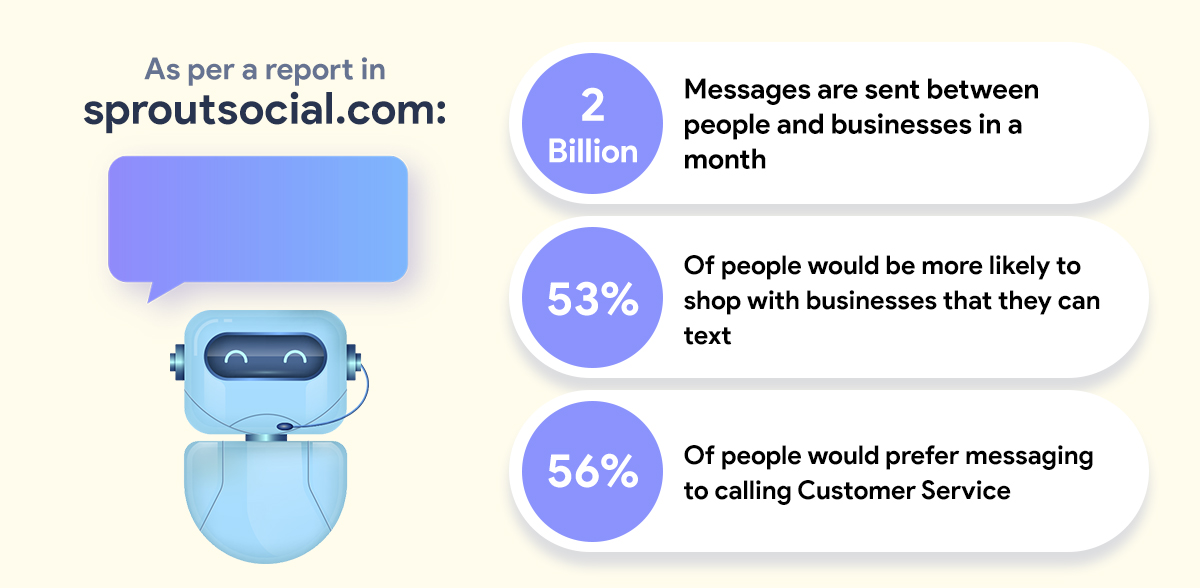 Data from Google Trends says that search volumes around chatbots has gone up 19x in the last 5 years. It is evident, then, that businesses as well as individuals are realizing their value more and more.
What are the basic expectations of customers from chatbots?
Prompt response to questions
Detailed answers to queries
Resolution for a problem or a complaint
Finding a human customer service agent
To accomplish these basic tasks (and more!) satisfactorily, a chatbot has to have certain characteristics. These characteristics are the ones that can make THE difference between a run-of-the-mill chatbot, and an ideal chatbot.
6 Characteristics an Ideal Chatbot should be having are:
    (1)Advanced Conversational Capabilities A chatbot can well receive and respond to messages via SMS, Facebook, Twitter, website chat windows, and so on, but an ideal chatbot would go beyond that. An ideal chatbot would not just understand a customer's words and interact conversationally; but it would also be having the specific Natural Language Processing capabilities to understand the context of a verbal or textual exchange. In various languages, too. The chatbot would have the intelligence to grasp the intent of the words used, and supply responses or solutions accordingly.
The best chatbots are those that possess Advanced Conversational Capabilities, seek information out in a proactive manner, and make clarifying queries in case of conversations that are far from linear.
    (2)Emotional Intelligence
An advanced intelligence chatbot has to have the Emotional Intelligence to 'read between the lines' of what a customer says, or texts, and respond accordingly.
For example, if you are dealing in jewelry, and a customer, by mistake, asks you for flowers, gets a negative answer from your chatbot, and says, "Oh, great!" the chatbot should not take the words literally and thank the customer. Instead, it should follow that the 'great' was rather an expression of disappointment, and say something smart and good for your business, like, "However, here is some exclusive jewelry that you can go for! The flowers can follow!"
Sentiment Analysis plays a crucial role in Emotional Intelligence, which an ideal chatbot has to exercise.
An Emotionally Intelligent chatbot has to understand the tone of the customer during an interaction, infer his/her personality traits, offer a personalized experience in accordance with that, or even shift the matter to a live agent, as and when required.
    (3)Autonomous Reasoning Power
An ideal chatbot should be able to 'reason' without any guidance or assistance from any live agent, or human being.
For instance, the chatbot should have the reasoning capacity to understand when a customer is happy, sad, sarcastic, or disinterested, and act and react accordingly. It should be able to understand and decide – all on its own -- what is going on and what should be done, next, for the good of the customer as well as your business.
A worthwhile Service Chatbot should have the complex reasoning power to arrive at solutions on the basis of case histories.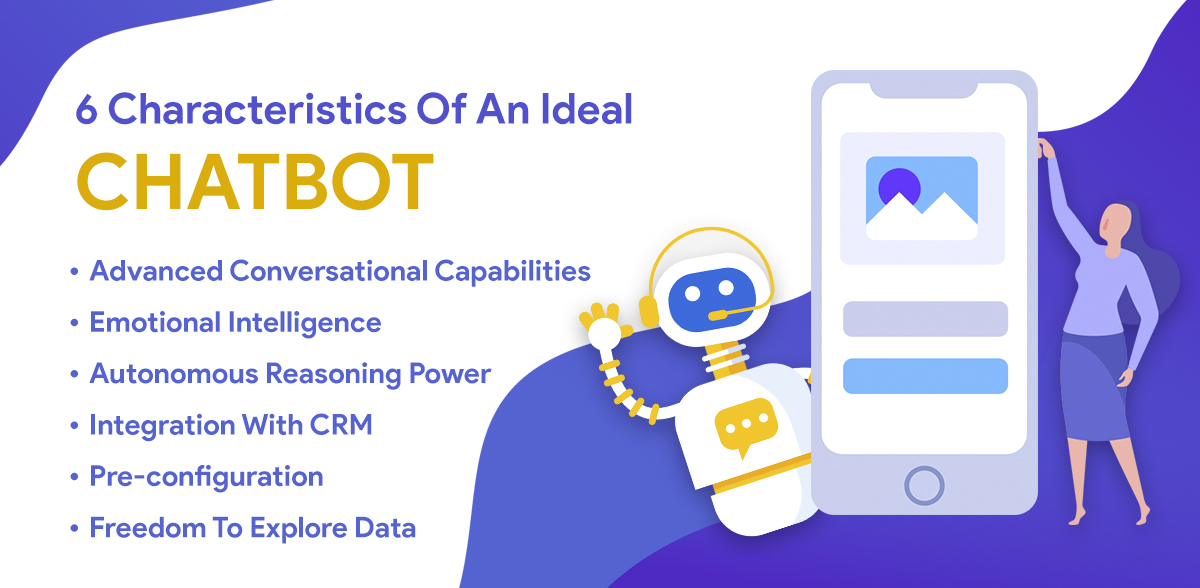 (4)Integration With CRM
An ideal chatbot has to be thoroughly integrated with the Customer Relationship Management. It has to handle real-time work, something as simple and routine like, say, changing a name, or a password. It also has to have the capacity to orchestrate workflows as complex as, say, a 15 step one that spans multiple different systems. This factor would enable the chatbot to manage your company's interaction with current and potential customers the best, leading to maximum customer acquisition, retention, and sales growth.
    (5)Pre-configuration
It would not be enough for the chatbot to be pre-trained regarding terms that are industry-specific, and brand-specific.
The ideal chatbot would have to have the pre-configuration, too, to be able to resolve common requests the customers might have regarding a certain industry.
    (6)Freedom To Explore Data
The chatbot should have the freedom to explore a vast amount of data, in order to gather insights from any source, whatsoever. The data explored can be structured, or unstructured. Whatever the data, the chatbot should have the freedom and capacity to access, consume, process, and use it to success.
If you keep these 6 best practices of chatbots in mind as you decide to design a chatbot for your organization, it can be brought to optimum use for
Engaging Users in Unique Ways
The traditional way to operate was to route customers' enquiries to businesses through the phone, or Email. This did not offer the users anything very unique, or personalized. Chatbots, now, are offering some very interesting and fun ways to connect with brands.
A prime example of this is Domino's Pizza's Twitter. Customers are now able to order a pizza from Domino's simply by sharing an emoji. Orders are then routed by the bots, which can ask a few additional questions if required.
Leading Users to Better Results
Often, it so happens that customers are not sure of what they want, and can do with a bit of guidance. Then there are people who might just be browsing through your brand – whom a little leading can convert into loyal customers. Your chatbot can come into play here. With the help of a few smart questions, these people can be led to the products and solutions that they are looking for, or can use.
Questions like
Would you like some help here?
Which industry are you from?
What result are you trying to achieve?
What is your location?
and so on can enable the visitor to be routed to the best possible solution.
Providing Support 'After Hours'
A robust chatbot can provide customers 24/7 support. Even when your office is shut after working hours, and on holidays.
What you need to have is an intelligent chatbot that you can trust with this kind of responsibility.
One of the most popular uses of chatbots is giving prompt responses – especially in an emergency. A customer typically expects a response within 4 hours of making an enquiry. Whereas it may take an office more than 6 hours to respond, at times. A chatbot can be very useful here, in giving customers the information they need, in the shortest period of time.
Saving Money and Time
Conversations that would otherwise have required an employee for answering, when automated through a chatbot, can save the organization a fair amount of time and money. This time, money, and manpower can then be utilized for greater purposes, to achieve better results.
Generating Leads and Revenue
Automating the initial interaction with a user, like asking him / her why s/he is visiting your page, can enable the chatbot to deliver qualified leads to the sales department. This can also save people the monotony and fatigue of asking or answering the same question/s again and again. The team can then be left with more time and energy to be spent on pursuits that can fetch your business greater revenue.
To Conclude
More and more companies are realizing more and more opportunities for integrating chatbots into their business.
What are your action plans for incorporating AI and chatbots into your processes and workflow?
Do feel free to share your ideas with us. We, at Ascentspark, can customize chatbot solutions for your business, to make your customers' interactive experiences the most unique, and beneficial for your ROI.