Text Analysis or Natural Language Processing is a way to analyze and understand the significance and meaning from human language to derive useful insights.
NLP can be used to perform tasks such as Translation, Summarization, Sentiment Analysis, Speech Recognition, Topic Detection, and Entity Recognition.
What Text Analytics involves
Text Analysis involves the parsing of text to find such facts from it as can be 'read' and analyzed by a machine. The idea is to create a structured data from free text content.
Machine-readable facts are drawn out from huge quantities of text, to be entered into a spreadsheet, or database. This can then be used for the purpose of indexing in Information Retrieval applications, analyzing data to note trends, or even for giving a natural language summary.
The uses Text Analysis can be brought to can well be innumerable – it can even depend on YOU to find the next earthshaking use it can be brought to – but let us discuss some of its current, major uses here:
Use Cases
    (1) Medical Transcriptions:
Natural Language Processing enables medical practitioners to find and analyze patients' medical records within the information contained by free text files. Text Analysis makes this possible, just as it makes it possible for doctors to leave certain jobs to Artificial Intelligence, and utilize the time and energy they save for more crucial services to mankind.
As per a report in Faber Transcription, 'One of the most basic yet efficient use cases of artificial intelligence is to optimize the clinical process. Traditionally, when patients feel ill, they go to the doctor, who checks their vital signs, asks questions, and gives a prescription. Now, AI assistants can cover a large part of clinical and outpatient services, freeing up doctors' time to attend to more critical cases. Your.MD is an AI-powered mobile app that provides basic healthcare. The chatbot asks users about their symptoms and provides easy-to-understand information about their medical conditions. The platform has a vast network of information that links symptoms to causes.
The assistant uses natural language processing and generation to provide a rich and fluid experience, and machine learning algorithms to create a complex map of the user's condition and provide a personalized experience. Your.MD suggests steps and measures to remedy the illness, including warning users when they need to see a doctor.
UK's National Health Service (NHS) has approved the information Your.MD provides. This means as opposed to self-diagnosis, users don't have to worry about the authenticity and reliability of the guidance they get. Other health assistants such as Ada integrate their technology with Amazon Alexa to improve the user experience.'
A comprehensive Medical Transcription Solution can have features optimized for transcription of Reading, Consultation, Medical Treatment, and even Surgery. There can be features such as Speaker Identification, Voice Recognition, Word Recommendation, Auto Conversion, Error Detection, and Monitoring.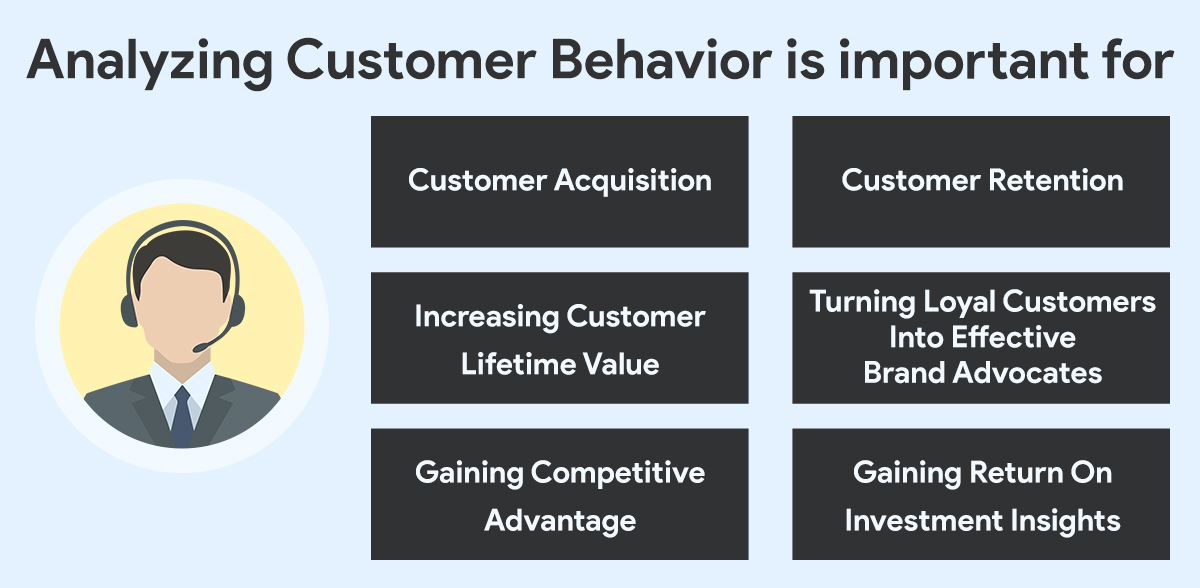 (2) Analyzing Customer Interactions:
Sentiment Analysis can enable you to analyze the sentiments or emotions of your customers and clients through comments and remarks posted by them on, say, social networks, store kiosks, the Web, mobile devices, and even from the words and tones of voice that they employ during phone calls. You can get to know what they are liking, disliking, and even what they are wishing for, and plan your services, products, and improvements accordingly.
Data scientists can use Sentiment Analysis to keep track of how a business brand performs in the market.
As per a TechTarget report, 'Google and other search engines base their machine translation technology on NLP deep learning models.' TechTarget says, 'More and more information is being created online every day, and a lot of it is natural human language. Until recently, businesses have been unable to analyze this data. But advances in NLP make it possible to analyze and learn from a greater range of data sources.'
Analyzing Customer Behavior is important for
Customer Acquisition
Customer Retention
Increasing Customer Lifetime Value
Turning Loyal Customers Into Effective Brand Advocates
Gaining Competitive Advantage
Gaining Return On Investment Insights
    (3) Text Analysis To Assist The Human Resources Division:
The HR Department can become a much better strategic asset if it employs Text Analysis, and uses more qualitative methods while working on its Employee Research.
HR Departments can use Text Analysis in recruiting personnel quicker, easier, and smarter. By extracting certain key themes and topics from the thousands of covering letters and CVs that pour in, the HR department can identify the best candidates for key positions with greater accuracy.
By going through how the most suitable candidates describe themselves, the HR department can use that information while creating job postings that can relate to, and thus attract the best candidates.
Using Text Analysis tools such as QDA Miner or WordStat, HR Divisions could access new areas of analysis that could help them delve deeper into the minds of their employees with no extra pressure on their time, energy, and financial resources.
Text Analysis can help HR Divisions to get enough relevant data for identifying common themes and trends impacting
Customer Concerns
Contract Negotiations
Safety Matters
Labor Relations
Continuity Planning
Exit Interviews can also get more insightful if the HR Division takes the help of Text Analysis to compare and contrast the comments of exiting employees on personnel, company policies, processes, etc.
In fact, through Text Analysis you can also find out what your employees are saying about your company on industry chat groups and the likes.
    (4) Analyzing Communication Records: Emails, minutes of meetings, and other such communication records can be analyzed for most enlightening and vital information, leading to far-reaching effects, with the help of Text Analysis.
To quote from a write-up by Columbia Mailman School Of Public Health, 'Content analysis is a research tool used to determine the presence of certain words, themes, or concepts within some given qualitative data (i.e. text). Using content analysis, researchers can quantify and analyze the presence, meanings and relationships of such certain words, themes, or concepts. Researchers can then make inferences about the messages within the texts, the writer(s), the audience, and even the culture and time of surrounding the text.
Sources of data could be from interviews, open-ended questions, field research notes, conversations, or literally any occurrence of communicative language (for example, books, essays, discussions, newspaper headlines, speeches, media, historical documents). A single study may analyze various forms of text in its analysis. To analyze the text using content analysis, the text must be coded, or broken down, into manageable code categories for analysis (i.e. "codes"). Once the text is coded into code categories, the codes can then be further categorized into "code categories" to summarize data even further.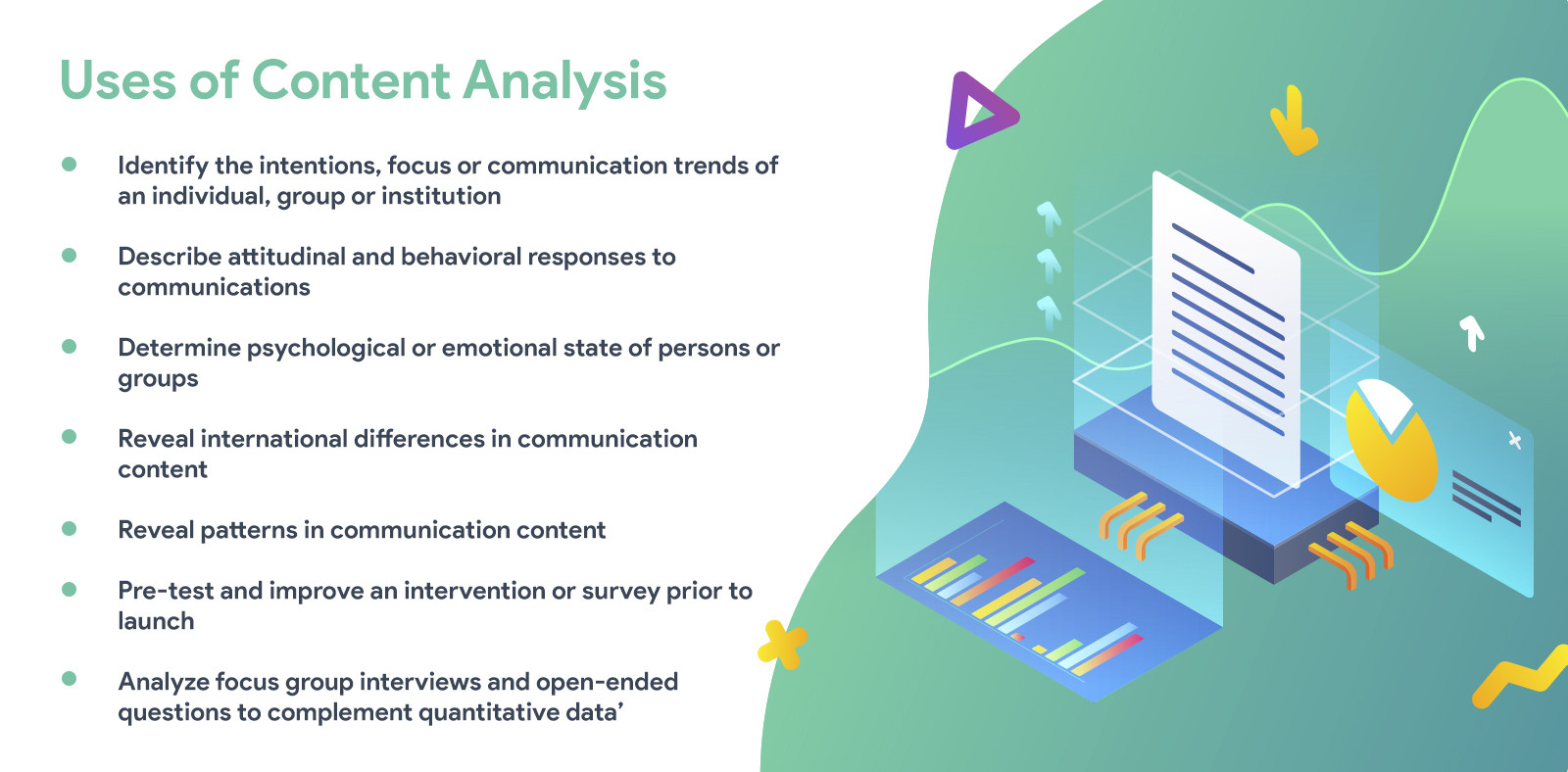 Uses of Content Analysis
Identify the intentions, focus or communication trends of an individual, group or institution
Describe attitudinal and behavioral responses to communications
Determine psychological or emotional state of persons or groups
Reveal international differences in communication content
Reveal patterns in communication content
Pre-test and improve an intervention or survey prior to launch
Analyze focus group interviews and open-ended questions to complement quantitative data'
    (5) Connectivity With Voice Controlled Applications: The Alexa Platform of Amazon is a prime example of Text Analysis.
Text Analysis enables us to connect with voice-controlled applications such as Amazon's Alexa Platform, and Polly.
Such Virtual Assistants are primarily there to make life easier for people. These Assistants can tell you how the weather is, book a ride for you, remind you of things and events, call your friend for you, and do a whole host of other things on your command.
As per a Localytics Blog, 'Via ComScore, 200 billion searches per month will be done via voice activation by 2020. This is likely to create a $50B market around voice activated apps and search, meaning consumer tech will continue to flood this market and iterate. The auto industry is already all over voice activation; Dragon Drive, in the BMW 7 Series sedan, is a voice-activated app you can interrupt and really have a dialogue with. Audi's "virtual cockpit" is drawing raves.
One of the more notable applications of voice-activated apps in society is in workplaces where hands-free mobility can be essential, such as hospitals. Additionally, voice activation has been shown in studies to be three times faster than texting -- meaning civil services that had been shifted over to text to become faster will likely move to voice activated apps within the next few years.
Managing your money is moving over to voice-activated apps too, with Finie. That's an app developed at the University of Michigan that integrates with mobile banking apps, essentially providing a virtual assistant that can answer questions about your unique financial accounts. You can cue it up with a question like "Any abnormal transactions in May?" and it will answer you as it displays relevant data.'
Tech experts predict Voice Activated Apps will have a greater market with more smart homes and faster voice recognition. The money, as they say, is here.
Another aspect of Text Analysis that is growing majorly in importance is
    (6) Audio To Text and Video To Text Conversion:
Audio To Text Software is AI enabled Speech Recognition Technology which converts spoken words to written words. The Technology recognizes and understands human speech, and can thus carry out the commands that it receives on a computer.
We can hardly type as fast as we think, and it can be a grave loss to miss a thread of thought that could have led to a huge profit, had it got documented at the speed of thought itself. Thankfully, 'thinking aloud' can now get transformed to text – thanks to Voice To Text Software that can expedite your workflow and augment your efficiency by creating documents faster than typing.
Talking about 'the best voice recognition software', business.com says, 'The best voice recognition software gives you the ability to streamline your workflow. In our increasingly busy world, this is a major reason it is gaining in popularity. Well-designed voice recognition software can help you dramatically increase productivity both at work and at home. You can dictate a document at roughly three times the speed of typing it. And with the right software, you can do so with even more accuracy.
Customized voice commands allow for hands-free dictation. Depending on the program, you can perform such tasks as telling your computer to open and edit a specific file so you don't have to search through folders to find it. With a simple voice command, you can open your email account. You can use your voice to dictate and edit emails then send them to friends or colleagues.
These voice dictation programs adapt to you. By learning the words and phrases you use the most, the programs get better at dictating your messages over time, similar to the predictive text function found on most smartphones.
A job that requires a lot of multitasking can, at times, make typing a burden. With this software, you don't even have to be in front of the computer screen to create documents.
Voice recognition apps also eliminate the need for holding a phone. Professionals aren't the only ones who can potentially benefit from this software. Busy parents who need to send emails while using their hands for other tasks can benefit from this software. If you're not a great speller, you'll love the convenience of letting the computer spell tricky words for you. This software can also be a boon to people with disabilities or injuries that restrict keyboard and mouse use.
Regardless of your station in life and your reason for needing this software, the best dictation software is easy to use and will simplify your life.'
A Voice Dictation Software's most important trait has to be its accuracy. Good programs should also make editing and formatting documents easy. The software should be able to work with multiple programs and devices, and present the customizable commands, words and profiles facility.
Speaking of Video To Text Conversion, the process is known as Transcribing.
This enables you to have a written copy of the videos that are important to you, insert time codes in the transcript, and insert frequently used text with the help of providing a keystroke via custom snippets.
IBM Watson Media says, 'Closed captions have grown to be an important part of the video experience. While they assist deaf and hard of hearing people in enjoying video content, a study in the UK discovered that 80% of closed caption use was from those with no hearing issues. Not only that, but Facebook found out that adding captions to a video increased view times on their network by 12%. These reasons, along with regulations such as the Americans with Disabilities Act and rules from the FCC, have realized the need to caption video assets. However, caption generation can be time consuming, taking 5-10 times the length of the video asset, or costly if you are paying someone else to create them.
A solution is automatic speech recognition from machine learning, the ability to identify words and phrases in spoken language and convert them to text. This offers content owners a way to quickly and cost effectively provide captions for their videos. To address this, IBM Watson Media is introducing the ability to convert video speech to text through IBM Watson. Called Watson Captioning, this solution is available as part of IBM's video streaming and enterprise video streaming offerings while also being available as a stand alone solution.'
Here are some vital reasons why Video Transcription can be good for you
It can boost your Video SEO. Search Engines cannot crawl videos, but the text in the transcripts can be indexed and ranked. The transcript can render your video more searchable across the Web, your website, and archive. You can utilize your transcripts to help you with your SEO Keywords Strategy.
It can improve the User Experience. A viewer can find your transcript helpful in various ways. S/he can understand words better, and even learn better from your video. Your videos can be found more easily by a viewer with the help of the topics and keywords in the transcripts.
It can gain your videos more viewers. People who cannot hear well can watch your videos, owing to the transcripts. Your videos can also be watched by people who are in sound prohibitive environments. There are people in noisy places such as crowded shopping malls, cafes, stations, buses, trains, and so on. Playing an audio might not be a very good idea there, as hearing could be difficult anyway. Your videos with transcripts can be extremely useful in such situations. 3PlayMedia informs, 'Making your online video accessible isn't just a nice-to-have – for many organizations it's required by law. Accessibility laws vary by state, but federal law requires that videos be transcribed and captioned for all federal agencies. Video accessibility is mandated for broadcast media, and for "places of public accommodation" like museums, libraries, and universities.'
    (7) Text Analysis can Filter Filler Words
Filler words like 'ah', 'umm', 'you know' etc. can often pose to be an impediment in business situations, and even during interviews, reports, and so on. Text Analysis can edit these off, from almost anywhere they are. This can reduce the length of audios, videos, texts, etc. and add to their crispness.
Text Analysis and Industry Specific Customization
Text Analysis can be customized to suit the specific requirements of your industry. For example, if you are associated with the Healthcare Industry, you would probably have to have a software that would 'understand' what a shorthand like 'OD' could mean. The good news is that this can be achieved.
Industry Specific Customization in the case of Text Analysis is possible, thereby enabling almost every industry to utilize this solution.
We, at Ascentspark Software have expertise in working with several Speech Analysis Engines like Amazon's Alexa and Polly, IBM's Watson, and Google's Speech To Text. We would love to hear about your projects. How would you like to harness Natural Language Processing to boost your business?
Do feel free to get in touch with us anytime, and let us work together towards leveraging technology for better insights and ROI of your business.