Step 1: Identification
An important step in automation is to determine which business processes would yield the highest returns when automated. Generally speaking, there are 3 process types that are good candidates for automation –
1. Processes involving data entry
2. Processes involving data extraction
3. Processes involving routine and repetitive tasks with basic decision making
To identify processes that can be automated, we can use the following criteria as a guiding rule –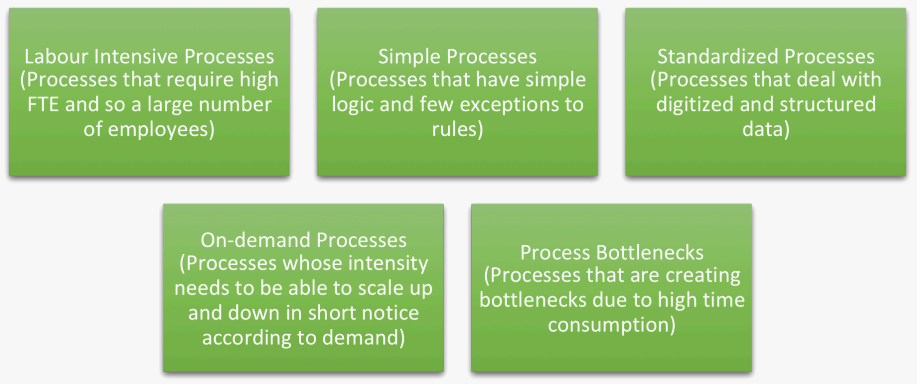 Step 2: Setting Goals
One of the biggest challenges in implementation of automation is the time taken for ROI and overcoming the hurdles involved in automating.
Some common hurdles faced are –
Enterprises dealing with processes which have high complexity
Automating processes with high exception rates
Enterprises needing to conform to regulatory requirements
Enterprises dealing with non-structured/non-digitized legacy data
RPA tools cost and implementation cost reduce with increase in volume, and thus need a minimum volume to start being efficient and returning gains
All these factors can increase the development time, and decrease the amount of automation within an organization.
Goals, expectations and suitability of automation should be driven by the consideration of these factors. Centralized tools can be used to monitor the performance and return being yielded over time to drive further decisions.
Step 3: Setting Goals
A governance structure, like the rudder of a ship helps 'drive' automation in the correct direction and achieve quantifiable benefits within a set period of time.
The most important elements are -
1. Defining roles and responsibilities in automation activities
2. Setting deadlines in achieving automation, one small step at a time
3. Setting general guidelines and standards for designing/developing/deploying robots
4. Tracking performance and productivity
5. Involving other departments such as IT/Risk/Legal/others who are involved in the process
6. Involving subject matter experts on processes with nuances
7. Calibrating development and production environment, and maintaining data security
8. Maintaining human 'safety valves' for regularly checking critical processes for error free delivery
9. Creating a response team for clearing backlogs and mitigating risks in case of robot failure
10. Involving HR into employee training for upskilling so that employees work along with automation to bring greater productivity
11. Ensure transparency /clarity and communication between dependent departments like IT
Step 4: Choosing Appropriate Tools
Organizations should evaluate tools with pre-built automation libraries that have re-usable components to connect to back-end systems, data-extraction capabilities, and cost and licensing options.
There are a few leading players in the market, with the top 3 being –
Blue Prism
Automation Anywhere
UIPath
Each of these tools has pros and cons and the suitability of one of these platforms, or a combination of platforms, varies based on the use case.
It is essential to understand the pros and cons of the various available tools and 'use the right tool for the right job'.
Step 5: Reengineering & Optimization Tools
Identification of bottlenecks and reengineering processes to make them optimal and more suitable for automation are important parts of automation implementation.
Inefficient processes with critical dependency on other processes, or processes which are not standardized and have high exception rates, would not generate the desired outcome. It is important to attempt to re-engineer these processes to make them more suitable for automation, or identify them as unsuitable candidates for automation.
Step 6: Business and IT Collaboration
The implementation of automation often fails because of lack of collaboration between Business and IT functions.
Automation is heavily dependent on IT support in structuring of data and business processes. It is equally dependent on the business' viewpoint, domain knowledge, subject matter expertise, and in turn the nuances of business processes that need to be maintained to keep it usable. Automation should be a combined effort between the business and IT with an operating model that defines the roles and responsibilities of each player.
While the function needs to own the operational requirements, process design initiatives, and performance monitoring, aspects such as reliability, risk management, technological compatibility, identity and access control, and compliance are for the IT organization to deliver.
Automation Beyond RPA
While the benefits of RPA might be many, businesses need a well-designed strategy to pivot from boardroom conversations to actual success. Directed systematically, RPA adoption is paving the way to achieving the cost and operational efficiencies desired by most organizations.
Businesses can also benefit from augmenting their processes using other automation techniques or specialized software, apart from just RPA robots.
Automation With AI
AI can be used to augment and overcome some shortcomings such as nonlinear decision making and capability to handle 'exceptions to rules' to offer more flexibility to an automated process and reduce the requirement of manual intervention. Apart from this obvious use, AI can be further explored to augment automated processes for which some ideas could be –
Businesses can also benefit from augmenting their business processes using other automation techniques or specialized software, apart from just RPA robots.
1. Analyzing data to give insights to PR professionals or Customer Support
2. Providing personalized info to the customers as a part of post purchase service
3. Making personalized product recommendations to clients by sensing the, personalities, tones, emotions, and usage habits of customers
4. Having engaging, automated conversations using chatbots to provide info or support to answer questions automatically, recommend products, and take workload off the regular workforce
AI can be seen as a way to transfer mundane tasks to a robot, so that human minds can be used to their full potential in doing creative and original work, instead of wasting time on sorting, organizing, responding, and reporting.
Automation With IoT
The primary drive for automation IoT is to significantly reduce operating expenditures when automation devices, sensors and actuators become Internet-enabled devices. It's the next huge leap in productivity because there are major advantages to be derived from the acquisition and organization of previously unthinkable amounts of data. New Enterprise Manufacturing Intelligence (EMI) software brings manufacturing-related data together from many sources for reporting, analysis, visual summaries, and passing of data between enterprise-level and plant-floor systems.
We are currently working on a IoT project which is a collaboration between an Indian DTH Television provider and Over The Top media distributor, to create a universal Android based receiver box, to act both as the set top box for watching TV/Recording shows, as well as access specialized apps to watch movies/shows/videos on demand, in free, freemium (free with ads), subscription as well as pay-per-view model, with focus towards understanding the users' viewing habits and procuring and providing content that the users want to watch.
We have outlined some generic ideas and basic methods of implementation of RPA/Automation. We can have a further, more specific discussion after we have more information on your roadmaps, views, pain points, and current status of implementation.